Jen Brister, Jessica Fostekew and Desiree Burch
11 July 2022 - Praterbühne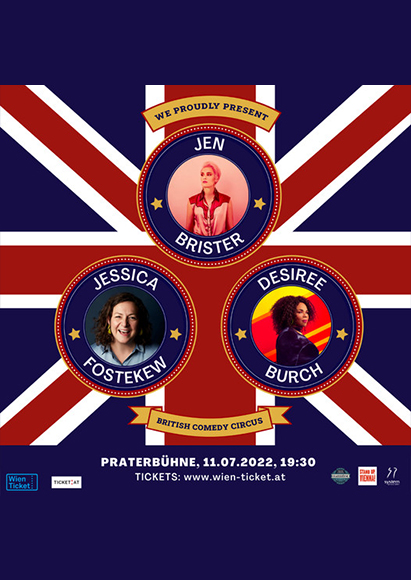 >British Comedy Circus proudly presents
Jen Brister, Jessica Fostekew and Desiree Burch
live on stage at Viktor Gernot's Praterbühne
11 July 2022, 19:30
Pure #fempower.
About Jessica
Jessica Fostekew is a comedian, actor and writer, whose latest stand up show, "Hench" was nominated for the 2019 Edinburgh Comedy Award.
Jessica has appeared on BBC2's Live at The Apollo, QI, Richard Osman's House Of Games, Dave Gorman's 'Modern Life is Goodish', Comedy Central's "Pep Talks" and more. She is also co-host ofThe Guilty Feminist (podcast with 60 million+ downloads) and host and creator of foodie hit and new chart-topping podcast, "Hoovering" (recommended in the Guardian and The Independent).
You can also hear her BBC R4 Extra's,The Comedy Club, Museum of Curiosity, The News Quiz and The Podcast Radio Hour. As an actor, she's recently been cast in The Trouble With Maggie Cole, Cuckoo (BBC/ Netflix), Motherland, Out of Her Mind, Trigonometry and BAFTA multiple-award winning BBC drama, Three Girls. You can catch her in the feature films, Official Secrets from Gavin Hood and Greed from Michael Winterbottom.
About Jen
Having recently appeared on BBC Two's Live At The Apollo, Stand Up at BBC Wales, The Now Show and The News Quiz (BBC R4), Jen Brister is a rising star of the British comedy scene. She has received critical acclaim for her latest Edinburgh Fringe show, 'Meaningless' which is currently on it's second successful run at The Soho Theatre and selling out it's UK tour dates up and down the country.
Jen has taken several extremely well received solo shows up to the Edinburgh Fringe Festival, where she started as part of the prestigious show, The Comedy Zone at the Pleasance. Jen has also taken solo shows to the Adelaide & Melbourne Comedy Festivals.
Jen has previously worked at BBC 6 Music where she presented a number of different shows including the weekend overnights, the weekend breakfast show and stand ins for Lauren Laverne, Liz Kershaw and Jon Holmes. Jen also starred in Russell Brand & Trevor Lock's 'Cloud Cuckoo Land' for BBC Radio 2.
Jen has performed stand up in clubs all over the country (literally) as well as sketch comedy in numerous sketch groups including the Loose Connection.
About Desiree
Desiree Burch is a comedian, writer, actor, theatre-maker and NY-to-London transplant. Desiree has quickly and firmly established herself as one of the break out comic stars in the UK. She is the host and voice of Netflix's smash reality hit, 'Too Hot Too Handle' and recently hosted Live At The Apollo (BBC 2).
Desiree exploded onto the UK comedy scene, winning the 2015 Funny Women Award. Since then, she has appeared on, 'Live at the Apollo' (BBC), 'Have I Got News For You' (BBC), 'Qi' (BBC), '8 Out of 10 Cats' (Channel 4), 'Mock The Week' (BBC2),'Insert Name Here' (BBC2), 'Frankie Boyle's New World Order (BBC2). and co-hosted Netflix series, "Flinch". Desiree recorded her critically acclaimed, debut Edinburgh festival show, 'This Is Evolution" as a TV special for, 'Live From The BBC '(BBC3) and has recorded a 2nd stand up special for Comedy Central. Her recent Edinburgh hour, 'Unfuckable' was a sold out hit at The Edinburgh Fringe and went onto two fantastic, sold out runs at The Soho Theatre. She also travelled to Just For Laughs in Montreal and recorded a set for Kevin Hart's LOL Network in 2018.
She's been heard as the voice of Pamela Winchell on #1 international hit podcast 'Welcome to Night Vale', as well as 'The News Quiz' (BBCR4), The Now Show (BBCR4), 'It's Not What You Know' (BBCR4) and on podcasts such as 'The Guilty Feminist', 'The Adam Buxton Podcast', 'Made of Human', 'Dumb White Guy', 'Friends Like Us' and 'Writing Excuses'.
Her solo theatre show "Tar Baby" was the winner of a 2015 Scotsman's Fringe First Award, a 2016 Vault Festival Pick-of-the-Week and was Shortlisted (High-Commendation) for the 2015 Amnesty International Freedom of Expression Award. Other solo shows ('52 Man Pickup' & 'This is Evolution') have toured internationally and received widespread critical acclaim. Desiree continues to direct, write and perform in The Dirty Thirty with The Degenerate Fox theatre ensemble.
Desiree was a founding member of the New York Neo-Futurists, writing and performing regularly in 'Too Much Light Makes the Baby Go Blind' over its 13-year run in NYC. She and has worked with renowned American theatre artists as Young Jean Lee, Alex Timbers, Wu Tsang and Anna Deavere Smith. She is a recipient of the 2014 Franklin Furnace Fund, an arts educator and public speaker (TEDx, NerdCon: Stories) and holds a B.A. in Theatre Studies from Yale University.