BILL BAILEY
26th & 27th of May 2014 | Gartenbaukino
After sold-shows featuring Eddie Izzard and Dylan Moran last year and
Russell Brand performing to a full house twice, we are happy to
announce our next Stand-Up comedy performer:
BILL BAILEY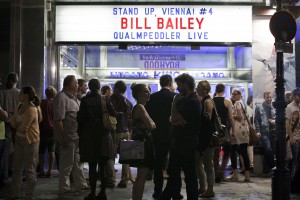 Channel 4 voted him #7 as part of their 100 Greatest Stand-Ups feature in
2010, he is an internationally revered master of irreverent comedy, an exceptionally gifted and multi-instrumental musician and all-around lovely guy.
We are proud to bring Bill to Vienna for the very first time to present his current hit show QUALMPEDDLER (look it up, we didn't know either).
"Qualmpeddler is… part rock-concert, part political discourse, part
philosophical enquiry… masterfully constructed… the thinking person's
comedian…"  – Herald Sun, Melbourne.