Daniel Sloss
5th of November 2016 - Stadtsaal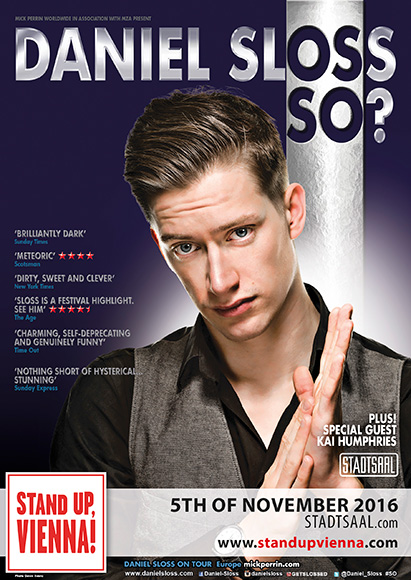 MICK PERRIN WORLDWIDE IN ASSOCIATION WITH MZA PRESENTS
DANIEL SLOSS – SO?
live on stage at Stadtsaal
5th of November 2016, 20:00
with special guest Kai Humphries
Don't miss the stunning new show from Scotland's internationally acclaimed and award- winning comedian!
Hot on the heels of last year's incredible 80 date UK and European tour, this year already Daniel has toured the US, made his New York season debut with a smash-hit run of performances at the legendary Soho Playhouse (which the New York Times Arts section put on it's front page) followed by a sold out 2 month tour in Australia and New Zealand, and performed another record-breaking Edinburgh Fringe season at the huge Conference Centre! So…..? So, now Daniel now makes a triumphant return to Europe with his brand new show 'So?"
Daniel has also sold out 8 consecutive Edinburgh Fringes and tours extensively throughout UK, Europe, Australasia and USA. His TV credits include no less than five appearances on 'Conan O'Brien', 'Sunday Night at the Palladium' and 'Russell Howard's Good News'. He co-created, wrote and co-starred in Scotish Comedy Award-winningonline sitcom M.U.F.F, gave a 'Tedx' Talk (when he was just 19), released a live DVD and is working on his own pilot for Hollywood's Warner Brothers Studios.
SO?… what else is new…?!
'An endearingly unabashed blend of arrogance, awkwardness and self-effacing anecdotes delivered with precision timing, perfectly-placed silence and unfettered confidence… Nothing is off limits… Sloss skillfully weaves sensitive subject matter into a hilarious tapestry of politically incorrect and sexually inappropriate zingers… his humour intelligently and ironically calling out the hypocrisy of human nature.' ★★★★ (Herald Sun, Australia)
'Funny, intelligent, charming' ★★★★ (Edinburgh Evening News)
'Brilliantly dark' (Sunday Times)

www.danielsloss.com
 / Twitter: @Daniel_Sloss #SO
 / YouTube: GETSLOSSED / Facebook: Daniel-Sloss
 / Instagram: DanielSloss
(Photo by GAVIN EVANS)
Impressions from a brilliant "Stand Up, Vienna!"-night with Daniel Sloss and Kai Humphries. Thank you all for coming!