Jim Jefferies
1 May 2023 - Stadthalle F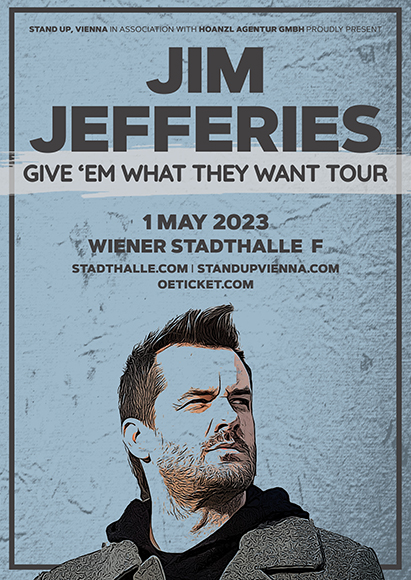 >STAND UP, VIENNA and HOANZL AGENTUR GmbH proudly present
Jim Jefferies – Give 'em what they want
live on stage at Wiener Stadthalle F
1 May 2023, 19:30
Jim Jefferies (Legit, FX; The Jim Jefferies Show, Comedy Central)This Sydney native is one of the most popular and respected comedians of his generation, entertaining audiences acrossthe globe with his provocative, belief-challenging, and thought-provoking comedy.
Jim was honored as Stand-Up Comedian of the Year at the Just for Laughs Festival in summer 2019, At the end of 2019 he started Oblivioustour in 2020 where he toured all around Europe and North America.
Jim's ninth stand up specialIntolerantcame out on Netflix last year and he currently hosts his ownpodcastI Don't Know About That with Jim Jefferies.
Follow Jim on his social media channels:
Facebook (@jimjefferies) | Twitter (@jimjefferies)| Instagram (@jimjefferies) | Youtube Channel | Podcast