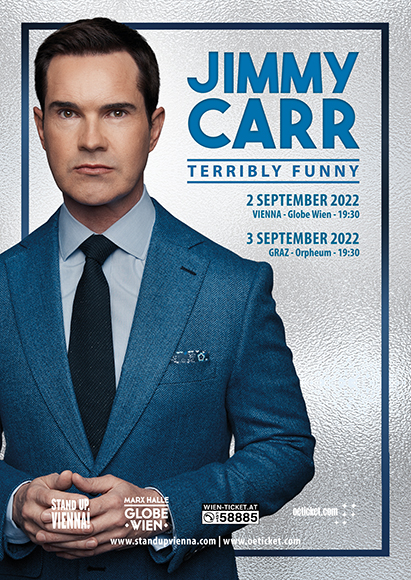 STAND UP, VIENNA in association with NIAVARANI & HOANZL GmbH proudly present
JIMMY CARR – Terribly Funny
live on stage at
Globe Wien – Vienna – 2 Sept 2022
Orpheum – Graz – 3 Sept 2022
(shows start at 19:30)
"A comedy hero for our times" – The Guardian
"Jimmy Carr slays" – Rolling Stone
Following on from the hardest working man in comedy's biggest ever tour this extension of his tour will take the total number of shows on sale to 169, with many dates already sold out.
Terribly Funny is the follow up to Jimmy's global 'Best Of' Tour which was seen by over half a million people worldwide.
The new show contains jokes about all kinds of terrible things. Terrible things that might have affected you or people you know and love. But they're just jokes – they are not the terrible things. Jokes are little lies. Nothing more than wonderful, funny, joyful tricks, constructed from language.
Jimmy will be telling jokes to an adult paying audience who've got a good idea what's in store. And there's no point to the show, save for to make the audience laugh. Having political correctness at a comedy show is like having health and safety at a rodeo. Now you've been warned, enjoy the laughs.
Jimmy Carr has been a comedian for over a decade and a half. He's performed 10 sell-out tours, playing over 2,500 shows to more than 2 and a half million people. He's won the British Comedy Award for 'Best Live Stand-Up Tour', been nominated for the Perrier Award and in 2016 became the first UK comedian to record a special for US streaming behemoth Netflix.
He has also hosted three series of Roast Battle on Comedy Central UK.
The 'Terribly Funny' tour will visit every corner of the world. For more information visit www.jimmycarr.com