Kathy Griffin – Laugh Your Head Off
November 18th 2017 - Gartenbaukino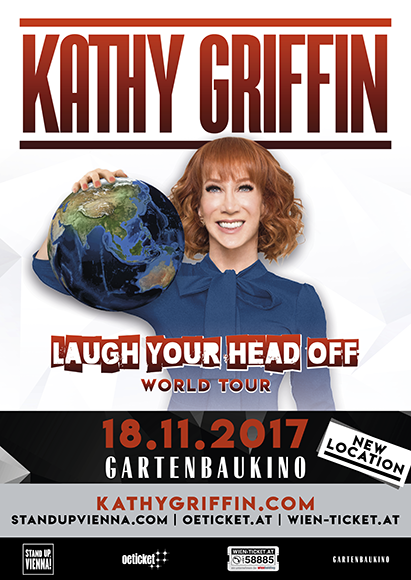 >STAND UP, VIENNA PRESENTS
Kathy Griffin – Laugh Your Head Off
live on stage at  Gartenbaukino
November 18th 2017, 20:30
(There has been a change of time/location)
She speaks! After two Emmys, a Grammy, decades of starring in television shows and touring, Kathy Griffin is launching her FIRST world tour after suddenly never being more in-demand. Armed with the story of the now infamous and controversial photo (yes…THAT photo), the fiery redheaded American comedian is bringing the story of the photo heard 'round the world and the fallout that followed, along with breaking down everything in the pop-culture landscape, to audiences worldwide.  The global "Laugh Your Head Off" tour begins this October in Auckland, New Zealand.
A Guinness World Record holder for the Most Televised Comedy Specials by any comedian in history, Griffin completed her 80-city "Like A Boss" tour in 2016 and capped it off with the release of her second best-selling book, Kathy Griffin's Celebrity Run-Ins: My A-Z Index. She became a #1 New York Times best-selling author with the release of her memoir, Official Book Club Selection, in 2009. Griffin was also the star of the docu-series, Kathy Griffin: My Life On The D-List and her own late-night talk show, Kathy.
Now, the prolific comic is taking her iconic, legendary, no holds barred brand of storytelling comedy global and nothing is off the table. "Who knew?" Griffin said.  "One photo that sparked a conversation led to offers from around the world.  So I look forward to making audiences laugh, telling them the whole sorted, ridiculous, but hilarious story, and hey, the Sydney Opera House isn't a bad place to share that, right?"  The tour's first leg will stop in New Zealand, Australia, and throughout Europe.  Never has Ms. Griffin been more motivated to deliver the most balls-out, most envelope-pushing, most hilarious comedy to the world.  Griffin continues, "My show isn't for the faint of heart so leave your kids at home. My motto is 'Funny First.' But don't worry, we've got some serious smack talking to do about everything and everyone," before adding, "with love, of course."
Tickets for the first leg of the "LAUGH YOUR HEAD OFF" world tour are on sale NOW.  For more information, visit www.KathyGriffin.com.
GET YOUR TICKETS HERE!