RUSSELL BRAND
19th & 20th of March 2014 | Gartenbaukino
RUSSELL BRAND – MESSIAH COMPLEX Tour
Stand Up, Vienna! is proud to present: RUSSELL BRAND on his MESSIAH COMPLEX tour.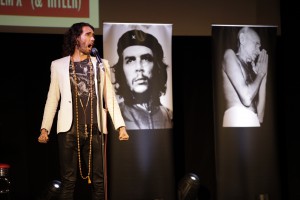 Everybody's favourite bad boy of comedy is touring his first international stand-up in the United States. His new show is a dissection of various social and religious figures and the reality of their lives through comparisons of each other. Messiah Complex is a mental disorder where you think you might be the messiah.
Did Jesus have it? What about Che Guevara, Gandhi, Malcolm X and Hitler?
All these men have shaped our lives and influenced the way we think. Their images are used to represent ideas that often do not relate to them at all. Would Gandhi be into Apple? Would Che Guevara endorse Madonna? Would Jesus be into Christianity?
This show looks at the importance of heroes in this age of atheistic disposability.
Plus there's sex. Obviously.
On March 19th and 20th, 2014, Russell made his first stop in Vienna and we were more than happy to be his host.