TJ Miller
18 May 2023 - Gartenbaukino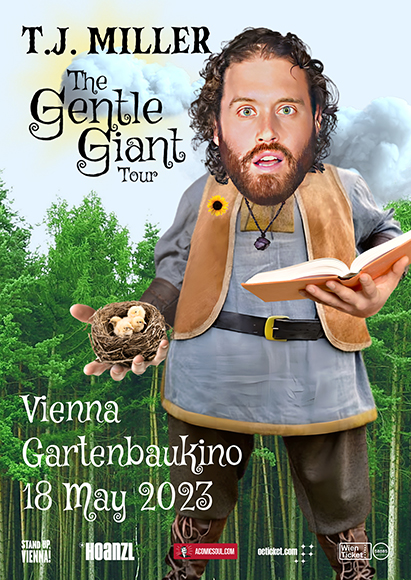 >STAND UP, VIENNA and HOANZL Agentur GmbH in association with A COMIC SOUL proudly present
T.J. Miller – The Gentle Giant Tour
live on stage at Gartenbaukino Wien
18 May 2023, 20:00
T.J. MILLER is one of the most sought after comedians in the world, certainly the northern part of the western hemisphere. With his big break through in the cult comedy show "Silicon Valley" he launched into big box office hits like "Transformers: Age Of Extinction", "Ready Player One" and "Deadpool", establishing himself as a top comedy actor in Hollywood.
For over 15 years he has been working to make people laugh, driven by the mission statement that life is fundamentally tragic and the best thing he can do is to provide an escapism from that tragedy by doing comedy. That has led him to craft his absurdist observational comedy doing stand up act all over the world for the last 15 years. And not once has he gone to the bathroom in his pantaloons on stage.
His hour-long comedy specials T.J. MILLER: NO REAL REASON (Comedy Central) and T.J. MILLER: METICULOUSLY RIDICULOUS (HBO) are available to stream now wherever streaming content is streamed. For no reason he produced two music albums, THE EXTENDED PLAY E.P., a hip-hop/pop/folk music E.P. with 41 tracks, and the ILLEGAL ART REMIXTAPE- available now on iTunes and wherever fake music is sold.